Last updated: June 18th, 2018
PLEASE READ: By summer 

2018 

the Athens transport ticket system has transitioned from paper tickets to modern electronic tickets with the use of paper and plastic smartcards (similar to London's Oyster cards). If you plan to travel to Athens during 2018, check the Athens Transport Tickets and Cards page in time, for the latest updates on how to use the new electronic tickets.
Welcome to Athens! With an urban population of more than 4 million people, Athens is the capital of Greece and the 4th most populous capital in the E.U. with a large, modern mass transit system to serve the needs of residents and visitors. It consists of:
City buses
Electric trolley-buses
Athens Metro
Athens Tram, and
Athens Suburban railway.
Athens is connected to even the remotest destinations through the Athens International Airport, ports of Piraeus, Rafina and Lavrio, national railway network operated by TRAINOSE and, long-distance bus network KTEL.
From the airport to downtown Athens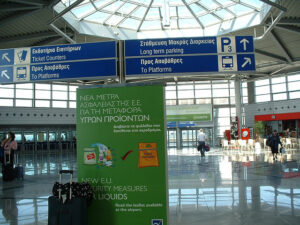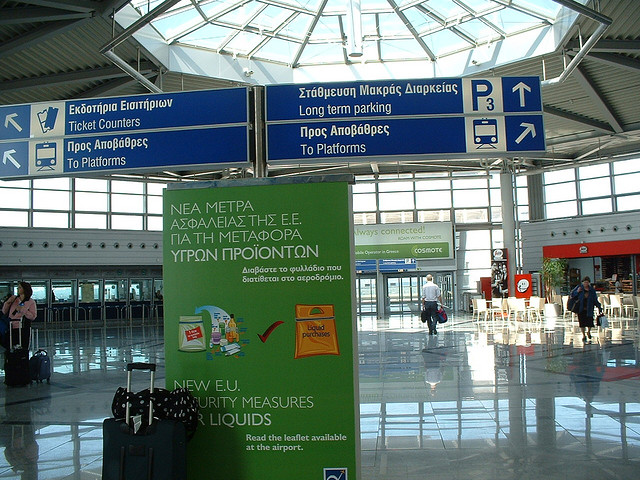 Getting to/from the Athens International Airport and the city center, located about 20 km (12 miles) east can be achieved via:
Metro: Take Metro Line 3 (Aghia Marina – Douk. Plakentias – Airport), which connects the Athens airport with the city center. Trains run every 30 minutes, 7 days a week from 6:30 a.m. to 11:30 p.m. The trip from/to the Airport to Syntagma station (Athens center) lasts 40 minutes. See the Metro timetable to the airport here.
For ticket info see Athens Transport tickets and cards.
Suburban Railway:

Proastiakos

 connects Athens Airport with Athens Central Station (also known as Stathmos Larisis), the port of Piraeus and SKA, and through them to the national railway network. Trains run 7 days a week. Trains from the Airport to Athens Central Station and the port of Piraeus run on the hour at xx:09, the first at 06:09 and the last at 22:09. There is also a train to Athens Central Station at 22:50. Trains from the Airport to Ano Liosia run on the hour at xx:52, from 05:52 to 20:52.
Current Proastiakos timetables: Airport – Athens – Piraeus, Piraeus – Athens – Airport, Piraeus – Athens – Kiato & Kiato – Athens – Piraeus, Athens–Halkida–Athens.
Tip: When in service, the Proastiakos departs the Airport at xx:09 and xx:52. You can take it to Doukissis Plakentias station, where you can change trains (platforms are on different levels) and continue to the city center (Metro Line 3 to Egaleo), using the same ticket.
Taxi: A taxi from the airport to the city center costs a flat rate of €38 from 5:00 a.m. to midnight, and €54 from midnight to 5:00 a.m.
From the Airport to the port of Piraeus
Suburban Railway: Take the train towards Piraeus. It leaves on the hour at :09 (from 6:09 am to 22:09) and the journey takes about one hour. The railway station is right next to the metro station and in front of the port.
Metro: Take the Metro all the way up to Monastiraki station (departures on the hour at :00 and :30, from 6:30 to 23:30). Change trains (platforms at different levels) and take line 1 towards Piraeus.
From Athens to the port of Piraeus
Moving around the city
Buses and trolleys
City buses and electrical trolley-buses serve Athens and its suburbs. Most vehicles are air-conditioned although most of them have started showing their age. Special schedules apply during summer months of July-September
Operating hours vary according to line/day/season, but generally they run between 5:00 a.m. – midnight. There are also five 24-hour lines, 4 airport lines (see above section), and 8 Express lines.
You can find routes, maps and real time bus movement information for every line on this website: Athens Buses routes and timetables. You can also get additional information by calling 11185 from a Greek phone. For ticket info see Athens Transport tickets and cards.
Metro
The Athens Metro has 3 lines. Line 1 (the Green line) started operation in 1869, making it the second oldest underground system in the world after the London Underground. Lines 2 and 3 opened in 2000 and increased the Metro's popularity due to its speed, cleanliness and security. Today's Athens underground connects important landmarks of the Greek capital, such as the Acropolis, Athens Airport, Port of Piraeus, Central Railway Station and Olympic Stadium, in addition to connecting downtown Athens with the suburbs. Archaeological exhibits found during Metro's construction and modern works of art are exhibited in many stations. All stations are fully accessible to disabled persons with elevators in every level and platform and most of the trains are air-conditioned.
Line 1 (green line): Kifisia – Piraeus

Line 2 (red line): Anthoupoli – Eliniko

Line 3 (blue line): Airport – Douk. Plakentias – Aghia Marina
All trains stop at all stations all the time, except of the section Airport – Douk. Plakentias of line 3 where trains run every 30 minutes.
Operating hours are 5:30 a.m. to 00:30 a.m., and every Friday and Saturday night, lines 2 & 3 stay open until 2:30 a.m. You can find information about Athens metro, including timetables, maps, parking and safety information on this website. For ticket info see Athens Transport tickets and cards.
Tram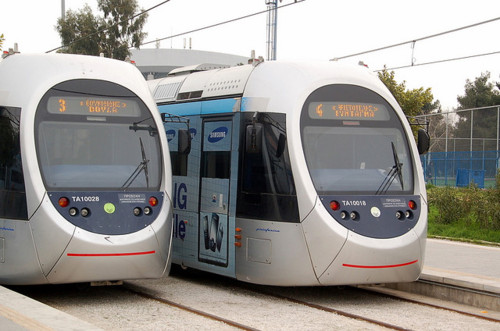 Starting operation on the eve of Athens' Olympics, the Athens Tram connects the city center with the southern seaside. There are 3 lines:
Line 1 "Syntagma – SEF" linking downtown Athens to the Peace and Friendship Stadium,
Line 2 "Syntagma – Voula" which runs between the city center and southern suburb of Voula and
Line 3 "Voula – SEF" running along the coastal zone.
In summer, many Athenians choose tram to visit nearby beaches, seaside cafes and clubs.
Operating hours are 5:30 a.m. to 1:00 a.m. and on Fridays and Saturdays it operates approximately from 5:30 a.m. to 2:30 a.m. Information on the Athens Tram, including timetables, can be found on on this website. For ticket info see Athens Transport tickets and cards
Suburban Railway
The Suburban Railway, or "Proastiakos", is part of the national railway network of Greece.
Its 3 main routes are Piraeus – Athens Central Station (also known as Stathmos Larisis)–Kiato, Piraeus – Athens Central Station–Athens Airport and Athens Central Station–Halkida (Chalkis). There are also extra trains between Ano Liosia and Airport station as well as Ano Liosia and Koropi station.
Be aware that different fares apply: the standard 90-minute ticket for the Athens region covers all Proastiakos journeys from Piraeus to SKA and Magoula to Koropi stations, while different fares are charged for more distant stations. See also: Suburban Railway discount policy.
Ath.ena Tickets and Ath.ena Cards are accepted within the urban section of Proastiakos as well as for journeys from/to the airport. Tickets for Proastiakos can be bought at all Proastiakos stations. More information on TrainOSE website.
Current Proastiakos timetables:
Taxis
Taxis (yellow in Athens, while other colors are preferred elsewhere in Greece) can be a more convenient -although pricier- mean of transportation. While many taxi drivers are excellent professionals, it is believed that some of them try to gain more by opting for the longest route when their passenger (Greek or non Greek) is not familiar with their destination.
Taxi drivers in Athens are required by law to always use a taximeter and issue a receipt at the end of the journey. You can remind your driver to do so in case they don't turn on their taximeter. There is also an official list of fares and surcharges they must follow. On the islands and elsewhere around Greece, fares are usually subject to agreement at the beginning of the journey.
Long-distance transportation
Long-distance buses (KTEL)
KTEL buses are privately owned bus networks based in every prefecture/island of Greece and often are the most affordable and convenient means of transport, though the quality of service can vary. Detailed information on routes, timetables, ticket fares and practical information can be found at  livingingreece.gr.
Greek Railways
TRAINOSE is the only long-distance passenger railway company in Greece. Formerly state-run, from 2017 it belongs to the Italian State Railways. Today most traffic is concentrated on the Athens – Thessaloniki line and the suburban network in Athens, Thessaloniki and Patras. There are also limited international routes to Sofia, Skopje and Belgrade. Information and ticket sales on TRAINOSE website.
Ticket information
Information resources
Keep in mind that strikes in Greece occur regularly and many times affect transportation even though most times there is an alternative option. Strike schedules are usually announced just 1-3 days in advance, so it's essential to stay informed. We will try to update the top of this page when we have new strike information. For information about Athens transport routes, schedules and more, you can also call 11185 on a Greek phone.
If you read Greek, you may follow my twitter account @athenstransport for more timely information.
Suggested Websites:
About this website: AthensTransport.com is a non-for-profit information website, not affiliated with any Athens transportation organization or other local or national government entity. Since 2009 we try to offer accurate information to Athenians and visitors alike. If the above information was useful to you, you may donate a small amount via Paypal
Have a question? Do you think more information should be added to this page? Feel free to leave a comment below or contact me via Twitter!
Information on this page comes from websites linked above and personal experiences as an Athenian, blogging about transportation in my city. Photos and maps via 1 | 2 | 3 | 4 | 5 | 6 | 7 | 8 | 9
This work is licensed under a Creative Commons Attribution-ShareAlike 3.0 Greece License